Facebook Launches Interest Lists
Facebook introduced a pretty cool new feature yesterday called Interest Lists. Rolling out to members over the next few weeks, Interest Lists turns your profile into your own personalized newspaper–with special sections for topics that you choose.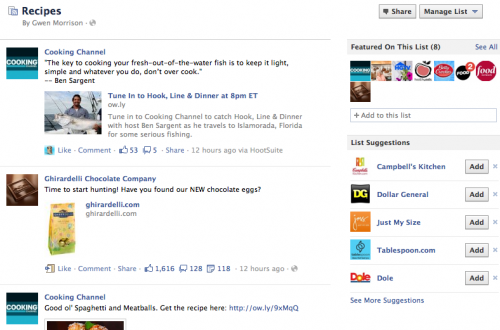 Expanding on Facebook's Subscribe feature, Interest Lists are topic-themed collections of your favorite Pages and public figures on Facebook. You can choose which pages to add to each topical "feed" (easily…through suggestions …see above image).
In addition,"top stories" from each list you subscribe to will appear in your main news feed. Lists can be shared with your friends, who can then subscribe to them.
The Interest Lists live on the left-hand side of your profile page for easy access.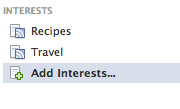 Click on Add Interests to see a list of suggested, already-curated lists you can subscribe to.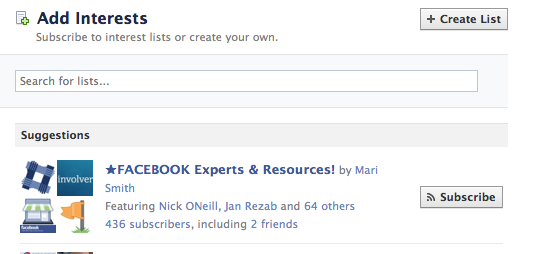 To create your own, click "Create List," and you can choose people and pages from your current profile, subscriptions, friends or choose from a pre-selected topical list.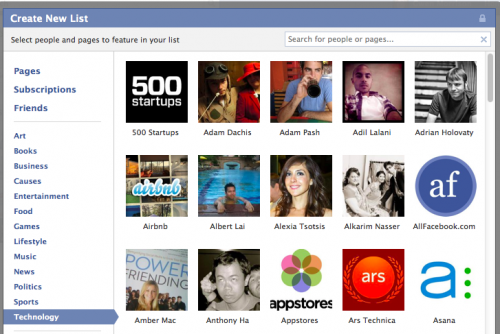 Share one of your Interest Lists by clicking on the List and then clicking Share button at top right. You can share on your timeline, your page, in a group, private message or a friend's timeline.
I've played around with the Interest Lists this morning and I think they're going to be great for extending reach for brand pages. What do you think of this new feature? Do you think you'll use it?
Gwen has more than a decade of digital marketing and communication experience. She has helped brands leverage social media tools and strategies to improve brand visibility, build relationships and fuel business growth.