How to Add Your LinkedIn Profile to Your Facebook Business Page
UPDATE: Although this 3rd party app worked for me for months and months, it now appears to be broken. I'm looking for a fix – or another app and will update this post if I find it!
I've been spending some time on LinkedIn lately. I've updated and optimized my profile— prompted by this video post by Nathan Kievman–joined a few more groups, updated my reading list, and expanded my network of contacts. Oh, and I also added the WordPress application so that all of my blog posts are fed to my profile. That was long overdue!
So, now that I have it my LinkedIn account all "cleaned up," I thought it was probably as a good time as any to add a tab on my Facebook page that connects people directly to my profile.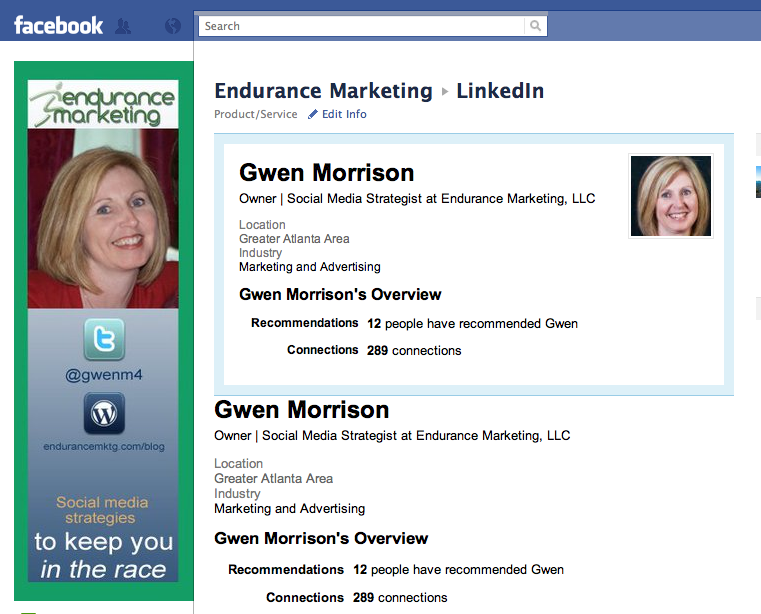 And Why Would I do That, You Ask?
As I am a consultant, my product is ME. I am the company. So, I figured it made perfect sense to provide an easy way for my Facebook connections to learn more about me, the product. (AKA: My LinkedIn profile.)
I haven't seen too many Facebook pages that have a LinkedIn tab on them (yet), but if you're a small business owner, the more ways you can connect with target audience, the better your chances of building trust and growing your business.
First Things First
Before you add LinkedIn to your Facebook business page, be sure to take a look at your LinkedIn profile. Is it up to date? Are you doing a good job of connecting with people? My friend, and fellow Canadian social media strategist, Julia Rosien offers some great tips in "Be a LinkedIn Dynamo" to get you started.
FYI — If you have a company profile, you can choose to add that URL, instead of your public LinkedIn profile (though I'm reading that you might have to "fiddle" with it and where your URL says /company — you might have to change to /companies.) If you try it, let me know.
How to Add the LinkedIn Link
One of the easiest ways to add LinkedIn to your Facebook fan page is with the app, My Linkedin Profile.
Here is the step by step guide to add LinkedIn to a Facebook page.
Step 1 – Sign in to your page. Make sure you have ADMIN privileges for your Facebook page.
Step 2 – Go to MY LINKEDIN PROFILE.
Step 3 – Click ADD TO MY PAGE (top left) and then select the page you want to add it to and click "add to page"
Step 4 – Go to your Facebook page, and click EDIT PAGE (top left)
Step 5 – On the left sidebar, click on APPS.  You should see MY LINKEDIN PROFILE in the list of applications, click the EDIT SETTINGS and under "Tab: Available, make sure ADD is clicked and then select OKAY.
Step 6 – Then under MY LINKEDIN PROFILE click GO TO APP
Step 7 – You are now on the application config for your Facebook page, enter the appropriate LinkedIn Public Profile Url or Company Profile Url and select SAVE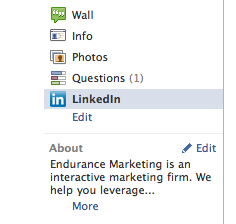 Step 8 – Go back to your Facebook page and you should either see the LINKEDIN link on the left side of your Facebook page.
It's as simple as that!
Follow me on Twitter, LIKE me on Facebook, or connect with me on LinkedIn. I'd love to meet you!
The following two tabs change content below.
Gwen Morrison is responsible for the launch of Endurance Marketing. Armed with more than 10 years experience in online communication, Gwen left the corporate world behind her to help brands inspire, motivate and build trust with their consumers.
Latest posts by Gwen Morrison (see all)